Usually, a township is a square tract of land with sides of six miles each, and containing 36 sections of land. However, this is not always the case.
A congressional township contains 36 sections of land, each section being 1 square mile.
A civil or political township may be larger or smaller than a congressional township.
When you see a square township on one of our plat book pages, that is a congressional township. Some political townships, however, can take up multiple pages. Take the county map diagram as an example. The political township "Iron River" is made up of multiple congressional townships. Each congressional township that makes up "Iron River" has a township number and also a range number. So depending on whether you are looking for a specific page from the plat book or the entire township, the print size can ultimately vary.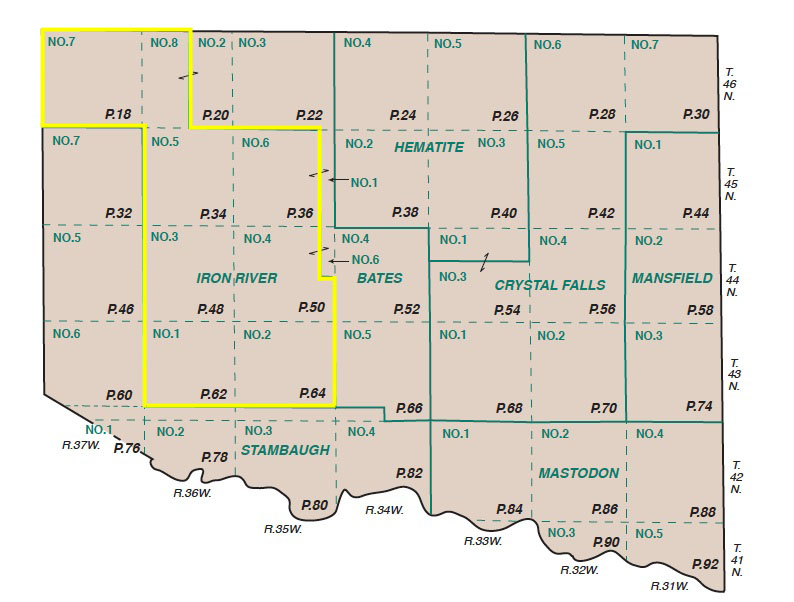 Any township map that we have produced can be ordered as an enlarged, individual print. If the township fits on one plat book page, it can be replicated easily at 2′ x 2′ (or any larger size you want!). If the township spans multiple plat book pages, then we do some work to determine what is the best size to show the entire township. These sizes can vary, but the reason is so the township can be viewed at its ideal viewing scale!
If you are interested in a specific township map or would like more information please contact our Custom Mapping Department.