We love making custom maps for our customers and whether those users are private or commercial each has a VERY specific purpose for their custom map. 
Docking Solutions (New Lisbon, WI) came to us requesting custom lake wall maps that would allow them to see dock locations for the lakes they service. They install and service boat lifts and docks which requires them to travel to places on the water without an address. The goal was to be able to use the map to help show their crew where they are supposed to be going while traveling by boat.
This was a unique request and a very fun map to make! The map needed to include aerial imagery and be large enough that they could clearly see dock locations and get a general idea of how to travel by boat.
We ended up making two separate maps, one of Castle Rock Lake and one of Petenwell Lake. The maps ended up being fairly large at a print size of 4.5 ft. x 6 ft. with a scale of 5 in. = 1 mile. Together, both maps take up almost an entire wall at Docking Solutions' office!
The feedback we have received has been nothing but great. Docking Solutions says the maps have been "extremely helpful" and "many people come in and say they love them."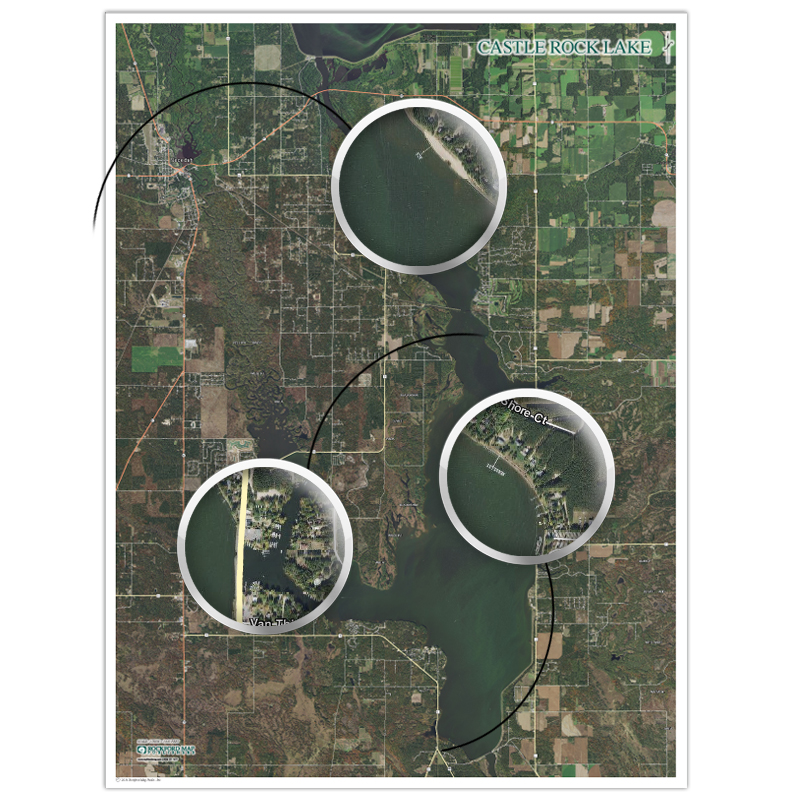 Many of our custom map projects come from previous customers who have an idea of a map that could help them but are unsure how it can be implemented. So whether you want an expanded coverage map, a digital routing map or custom lake maps large enough to cover a wall – we can do it!
Take a second and fill out our custom map quote form today and one of our Custom Mapping Specialists will be in touch with you to discuss your ideas!