eBook and MobilePlat are Rockford Map Publishers' best-selling digital plat map products. Each map product offers value to anyone who is interested in viewing landownership information. Both products show our standard county plat map attributes such as parcel boundaries, landowner names, and acreage. The main difference between eBook and MobilePlat comes down to what software/app you are using to view the map and the features that software/app provides.
Recommended software/app to use with eBook and MobilePlat:
eBook is a digital county plat map (.pdf) identical to the printed plat book with the exact same layout of township maps, content, and data. eBook is designed for use on any computer, smartphone, or tablet device with .pdf viewing software such as Adobe Acrobat Reader.
M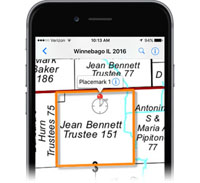 obilePlat is a seamless, geo-referenced county plat map (.pdf) that is designed for use on mobile devices (Avenza Maps app) and now your desktop (Adobe Acrobat Reader). The functionality can change depending on whether you are using Avenza Maps app or Adobe Acrobat Reader.
Now that you are a little more familiar with what software is recommended for viewing each map, we can talk about the differences and where each product might excel over the other.
Below is a list of common features customers ask about and our opinion as to which product has the advantage:
Commenting
Adobe Reader and the Avenza Maps app both offer you the ability to add comments to the map. In Adobe Reader you can insert different types of comments as well as highlight parcels easily and intuitively. You can add comments in the Avenza Maps app, but it comes in the form of using placemarks and then editing the attributes of those placemarks. Since you can use both eBook and MobilePlat in Adobe Reader this is virtually a tie.
Advantage: eBook and MobilePlat (when using in Adobe Reader)
Map Navigation
We give MobilePlat the nod on this since it is a seamless county map that you can view without changing pages. However, the eBook still offers some nice functionality with the Linked Index Map. The Linked Index Map in the eBook allows you to go back and forth between townships with a simple click of the mouse. Some might prefer the eBook since the layout resembles that of the plat book, but we think having a seamless county view makes the MobilePlat more ideal for map navigation.
Advantage: MobilePlat
Aerial Imagery
The eBook contains the same aerial imagery that the plat book contains. MobilePlat does not contain aerial imagery since it is just the seamless county map. If you use MobilePlat in the Avenza Maps app it does have a feature that allows you to open up the Google Maps app to view aerial imagery. The eBook has the upper hand when it comes to aerial imagery, but as you can see there is a work around to view aerials when using MobilePlat in the Avenza Maps app.
Advantage: eBook
Printing
Both digital plat map products come with a Lifetime Site License. The Lifetime Site License allows you to put the maps on multiple devices within one physical site or location. The license also allows you to print out individual pages of the maps for physical use. If you use the MobilePlat within Adobe Reader you can print from it just like you would print from the eBook. Both products work well for printing as long as you are using them within Adobe Reader.
Advantage: eBook and MobilePlat (when using in Adobe Reader)
Geo-locating ability
While using MobilePlat in the Avenza Maps app you can geo-locate yourself on the map while you are in the field. You can actually see your location on the map as long as you are physically within the county. This feature just simply doesn't exist if you are using the eBook within Adobe Reader.
Advantage: MobilePlat
Both eBook and MobilePlat offer some truly great benefits. The main difference is that the MobilePlat offers you geo-locating ability when using it in the Avenza Maps app. If you find yourself using plat maps while in the field this product might make more sense for you over the eBook. Depending on your need, one product might offer more overall value to you, but each one is still a dependable digital plat map product.
Visit the eBook and MobilePlat product pages to download a sample map and determine which digital map product is a better fit for you!