Qualifying new business leads is an important part of every business. As a business you need to know who your potential customers are, what problems they face, and whether or not you can solve their problems with your product or service. Many of our commercial customers who use our plat maps and landownership data are not just interested in learning who owns the land, but whether or not that landowner has a need for their services. The more customers and territory your business covers, the more important it is to be able to qualify all new business leads and prospects.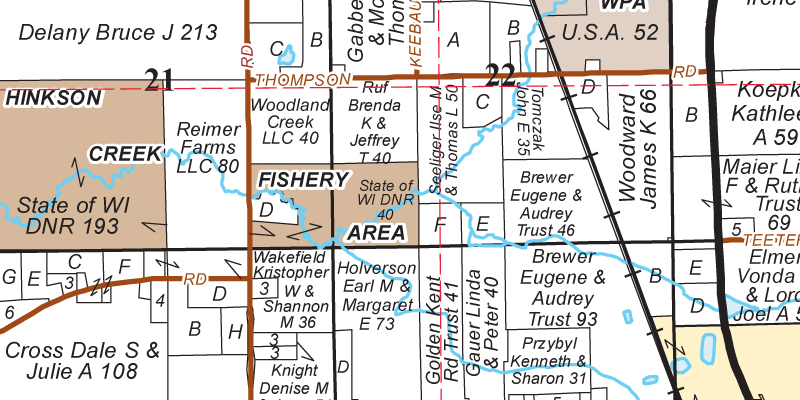 Badgerland Financial is part of the Farm Credit system that services 33 counties in Central and Southern Wisconsin and offers a full range of agricultural loan products and services. One of Badgerland's main goals is to be the company that comes to mind when you think of buying land. The reason being that when property is for sale the next step is financing and that is where Badgerland fits in.
Badgerland came to us looking for ways they could help their loan officers streamline activity and make their day-to-day processes more efficient. Their loan officers have always been familiar with our maps since they use them to stay on top of knowing who owns the land. They were and still are a heavy user of our Plat Books, eBooks, Custom Licensing and Advertising.
The ultimate "big picture plan" Badgerland described to us was to create something that would allow the loan officers to get to know and keep tabs on every landowner in the counties they service–the ultimate customer qualifier. The end result is what they describe as their "Credit Mapping Initiative".
The initiative can be broken down into two phases:
Phase 1
The first phase included Rockford Map providing our Parcel Shapefile Data in excel spreadsheets with attributes such as landowner names and mailing addresses for the counties they service. Badgerland imported this data into their CRM (Customer Relationship Management) software using custom code that attempted to match the landowner names with their existing customer data. Any match was thrown out since they know that landowner is already a current customer and they don't need to qualify the lead. Once the lists were segmented down to Badgerland's specifications they were sorted by township and checked manually by the loan officers for any errors. The end result was a list of potentially new customer prospects with mailing addresses and names.
Phase 2
The second phase was to map the information so the loan officers could qualify leads in a more efficient manner. In order to be more efficient the mapping system would need to be able to be accessed while on the road and not just while sitting at their desk in their office. Badgerland developers created essentially their own map database that looks similar to an online GIS. There are multiple layers of data such as aerials, parcel boundaries, owner names, and even our RMP SmartImage as a standing layer.
After accessing the map via a computer or mobile device, the loan officers can view the map to see what parcels are not current customers and make in-depth notes about the properties when they learn more information.
The "Credit Map" as Badgerland likes to call it, has led to additional marketing initiatives such as segmenting landowners and being able to focus on different acreages with direct mail marketing campaigns. This is some of the most extensive use of landownership information we have seen and it shows how powerful landownership information can be if implemented in a strategic manner.
Does your business have a need for keeping track of landowners?
Talk to us about how we can help you implement new landownership map and data processes into your business.