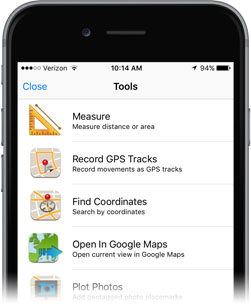 Plat maps have always been a great resource for viewing landownership information such as owner names and parcel boundaries. When it comes to providing a complete overview of a county, nothing does the job quite like a plat map from Rockford Map Publishers! However, wouldn't it be great if you could not only view our plat maps on top of aerial imagery, but also utilize them in Google Earth? Well, now you can!
GeoPlat™ is a seamless, rasterized county plat map overlay (.kmz) that is designed for use in Google Earth. With GeoPlat, you can import and view parcel boundaries, owner names, township and range, section lines and acreage on top of the aerial imagery that Google Earth provides. Here is how easy it is to import GeoPlat into Google Earth and view county landownership information:
How to Import Plat Maps into Google Earth:

1. Download and install Google Earth for Desktop
Always make sure you are using the most updated version of Google Earth and that your computer meets the minimum system requirements (PC – Windows 7 or newer, Mac – Mac OSX 10.8 or later).

2. Purchase a GeoPlat from RockfordMap.com
These files are available for almost every county where we have published a plat book since 2001. Once ordered, we will send you a confirmation email order. A separate email will then be sent that contains the link to download your file.

3. Download the GeoPlat (.kmz file) to your computer
Open the digital download email and follow the instructions to download the .kmz file to your computer. Want to download a sample file? Click here

4. Import .KMZ file into Google Earth
Simply open Google Earth, then click File > Open. The file will import and automatically place itself in the "Temporary Places" folder. You can now view the parcel information over the aerial imagery of Google Earth. To save the map to your device, simply drag and drop the layer into the "My Places" folder.

If you encounter any issues importing the file, please call us at (800) 321-1627 ex. 217 for help. Larger counties will take longer to import. Trying to turn map layers on and off during this time could affect the import results–so it is best to sit tight!
Once imported, you can check out all the features GeoPlat has to offer such as a clickable Town & Range Index!
For more info on GeoPlat, visit the product page.
To view county availability, visit the Buy Now page.