Most geography and map enthusiasts have had some experience with county plat books, a genre of atlas that had its beginnings in the 1850s and became ubiquitous in the last quarter of the nineteenth century. Plat books, which show the boundaries and ownership of rural property, are an essential tool for realtors and developers, and have proven their value as historical records for genealogists and local historians. Anyone who grew up on a farm in the twentieth century knows that the plat book persisted, not as a large leather-bound folio, but as a more modest booklet of maps, stapled or spiral-bound, and for many, the name on the cover was "Rockford Map Publishers."
Today, there are only a couple of commercial companies that publish county plat books with the rest being produced by county GIS/mapping departments. Most, if not all, plat books currently being published have a similar structure and layout that focuses on the rural land ownership of each township within a county. To understand how this standardized structure came to be, one must look back to the very beginning of the United States when most of the land was unexplored and therefore undocumented.
Public Land Survey System
After the Revolutionary war, most of what now makes up the United States was undocumented land. The land within the colonies was already documented and surveyed with what is known as "metes and bound" (essentially, walk 50 paces to the oak tree and then turn). The Federal government sought to sell and distribute the land west of the colonies to raise money, and knew there needed to be a better way to document the land before it was to be sold.
The Public Land Survey System (PLSS) was created in order to efficiently divide and describe land. Land was to be divided into 6-mile-square townships with townships divided into 36 one-mile-square sections. Known as the Public Land states, there are only 30 that were surveyed using the rectangular system. The original thirteen colonies and their territories (the states of Kentucky, Maine, Tennessee, Vermont,Virginia, West Virginia) also Hawaii and Texas were surveyed with metes and bounds or other methods (Huber).
Most of the historical and current plat books that you will find are of counties in states that were surveyed using the PLSS. This is because of how unorganized parcels of land can be in states that were surveyed using metes and bound. Try looking at a plat map from Pennsylvania (Figure 1)! Of the states that were surveyed using the PLSS, the ones in the Midwest are more likely to have plat books produced, because the county sizes are smaller than the counties out west, and therefore easier to map. The PLSS is an extremely helpful system for documenting land and over time has had a large impact in deciding what states plat book publishers tend to map in.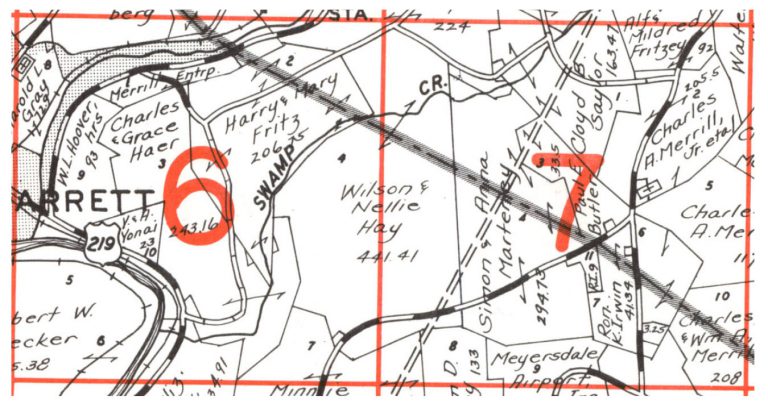 Early Plat Books
Plat books didn't start showing up in the midwestern states till after the Civil War. The Wisconsin Historical Society notes that, "most of the land ownership maps before this were usually large wall maps embellished with illustrations of buildings such as courthouses, businesses or homes of the wealthy, directories, and city maps" (About Land Ownership Maps and Atlases of Wisconsin). These wall maps tended to be lavish and would typically be considered wall art these days. It wasn't till after the Civil War that the atlases started to be structured and broken down around the townships. These atlases would "show the boundaries and acreage of farms, locations of churches, cemeteries, schools, and other businesses. The maps would also show roads and railways, and topographical features such as rivers, lakes, marshlands, and hills" (About Land Ownership Maps and Atlases of Wisconsin). It was this type of atlas format that Rockford Map Publishers would build a map publishing business around.
Rockford Map Publishers' Impact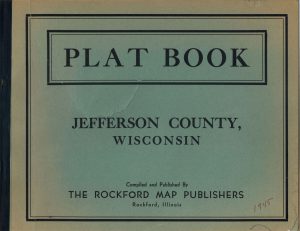 J.Q. Cummings founded Rockford Map Publishers in 1944. The first plat maps produced were researched and hand-drawn exclusively by J.Q. in the basement of his home in Rockford, IL. As a one-man operation, the process was extremely manual which allowed for a few counties to be updated in a given year. Township base maps were hand drawn using aerial surveys as a reference. The process then called for physical travel to the county courthouse to verify ownership information and record on to the base map. Once recorded, the base maps were cleaned up at home and prepared for printing. Base maps were transparent polyester sheets, approx. 2' x 2', that when photographed, could be shrunk to fit on an 11" x 8.5" printed page.
The Library of Congress notes "after World War II, there was an enormous increase in both the number and quality of national and regional atlases, and in the United States… particularly of state and provincial atlases" (Ehrenberg). With a focus on quality and accuracy, Rockford Map Publishers was at the forefront of the unprecedented map atlas publishing growth. Less than 5 years in and J.Q. moved operations from his basement to a large office location to accommodate space for a growing staff. A large staff was needed to keep up with the increasing demand for Rockford Map plat books. The first 30 years of business saw consistent and substantial increases in year-over-year plat book production (Figure 2).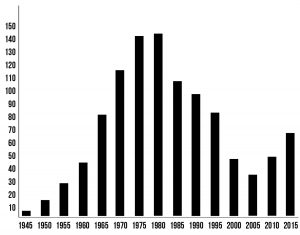 As Rockford Map grew, so did the concept and evolution of the plat book. Local sponsors were obtained to sell plat books while advertisers were secured and listed alongside map pages to help offset production costs. Over time metal binding replaced stapled pages, which were eventually replaced with plastic binding. In the 80s, color was slowly introduced starting with park and recreational areas and then moving to other map features like waterways, roadways, and city boundaries.
Rockford Map's greatest contribution to plat book publishing has been the standardization of innovative map features. Some customers went as far as referring to Rockford Map Publishers as the "Cadillac of Plat Books" due to the high-quality and consistency of the maps. Rockford Map is the first plat book publisher to introduce and consistently use facing-page aerial maps as a standard atlas feature. Other important features that have become standard features for the plat book include: an Index to Owners, Index to Roads, Latitude/Longitude grids, and a General Highway Map.
For one reason or another most private plat book publishers have faded away over time. It has always been the opinion of Rockford Map Publishers that the focus on quality and accuracy is why the business has done as well as it has for so long. In fact, visit the Library of Congress website and you'll see Rockford Map Publishers has submitted more copyrighted land ownership maps than any other commercial publisher.
GIS Maps
Around the beginning of the 21st century, Rockford Map began using computers to digitally create maps. The transition was not as quick as one might think, as all of the hand drawn maps had to be digitized manually. Once digitized, updating maps using a computer was still a very manual process that required time and patience. In 2008, Rockford Map Publishers created its' first GIS-based plat book, and the company started to see serious efficiencies on the production side. This new plat book creation process would utilize software that would manipulate a file of all the land ownership records of the county. Software would place most of the map labels and then it was a cartographer's job to verify placements and clean up anything that didn't meet Rockford Map's quality standards.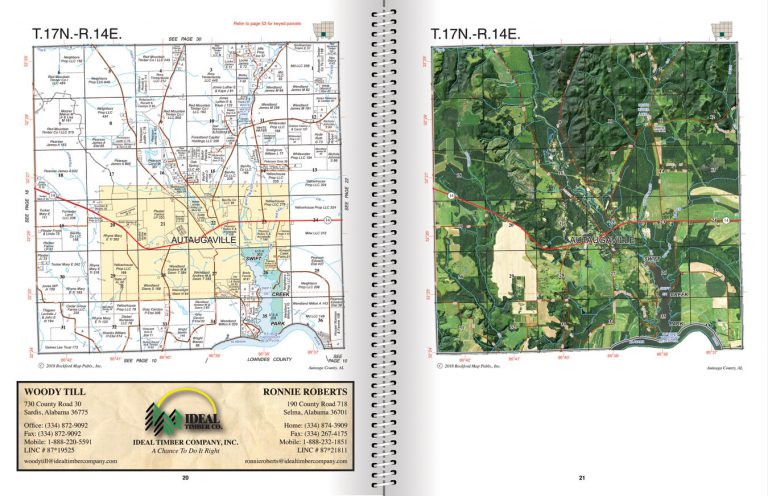 Today, GIS-based map production allows plat maps to be created in new and exciting formats. Whether it is a geo-referenced map that can be used on your smartphone or a transparent plat map that can be overlaid on Google Earth, the definition of "what is a plat book" is continually being rewritten. Each year, Rockford Map's digital plat map product sales grow as direct result of individuals changing their viewpoint on "what is a plat book" and wanting to experience the enticing functionality that digital plat maps offer.
The Future of Plat Books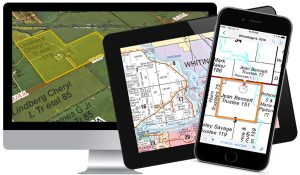 Seeing an overview of landowners within a county can be extremely valuable. It can help commercial companies identify trends and new business opportunities, help historians look into the past, and ultimately provide general resource knowledge of "who owns the land". Plat books have stood the test of time, not just because they are a geographical reference tool, but also because they are a vital part of documenting the historical transfer of land.
Whether plat maps continue to be viewed on paper or through a screen, it is the visualization of land ownership information that drives the creation of the maps. The interesting thing about land ownership is its' ever-changing, dynamic nature. So as technology and land ownership continues to change, so will the evolution of the plat book!
References
"About Land Ownership Maps and Atlases of Wisconsin." Wisconsin Historical Society, www.wisconsinhistory.org/Records/Article/CS3339. Web. Last accessed 1 March 2018.
Ehrenberg, Ralph E."Atlases." Geography and Maps: An Illustrated Guide, Library of Congress, www.loc.gov/rr/geogmap/guide/index.html. Web. Last accessed 1 March 2018.
Huber, Tom. "A Location Guide to the General Land Office (GLO) Survey Plats." Illinois Periodicals Online, Illinois State Library, www.lib.niu.edu/1999/il9904232.html. Web. Last accessed 1 March 2018.
"The Public Land Survey System (PLSS)." The National Map, U.S. Geological Survey, nationalmap.gov/small_scale/a_plss.html. Web. Last accessed 1 March 2018.